Encore's Application Management Solutions: Keep your enterprise running smoothly while you focus on the future
The demands—implementation, optimization, maintenance, performance improvement, quality initiatives, etc.—placed on healthcare providers' EHR teams are growing faster than their budgets.  In response to this, Encore has developed Application Management Solutions to help you put "first things first," keeping your team focused on the strategic initiatives that will transform your organization. Our services enable your organization to: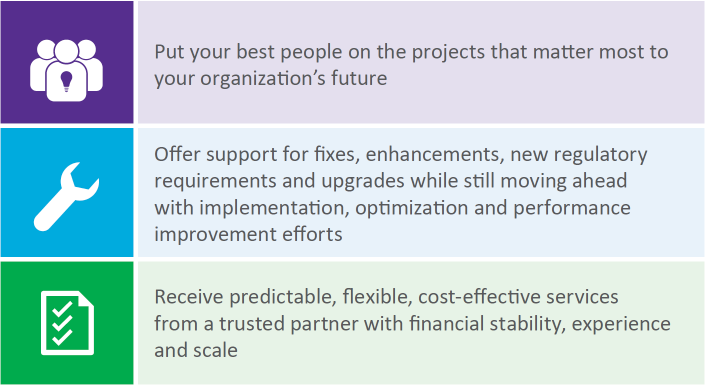 Our Application Management Solutions combine the capability of our parent company, Quintiles, with Encore's in-depth knowledge and experience managing production EHR applications for organizations just like yours. Quintiles' Application Support Organization, centralized in Raleigh/Durham, NC, has supported mission critical systems worldwide, including Data Warehousing, Lab, Reporting & Analytics, Clinical Data Management and IT Management.
A Better Way
The Expertise of Many for the Price of a Few
Instead of facing the unpredictable nature of an ad hoc solution, Encore's Application Management Solutions give you peace of mind to free up your staff so they can focus their full attention on your new EHR implementation, upgrade or optimization. This cost-effective solution can greatly reduce the need to engage expensive traveling consulting resources for your project. Implementing a new EHR while keeping legacy applications up and running can create tremendous stress and strain on your organization. Encore can provide relief through an Application Management Solution customized to your legacy applications, environment, priorities and culture, helping you:
Transition Planning Methodology
Our legacy application management methodology is designed to smooth the transition from your team to ours: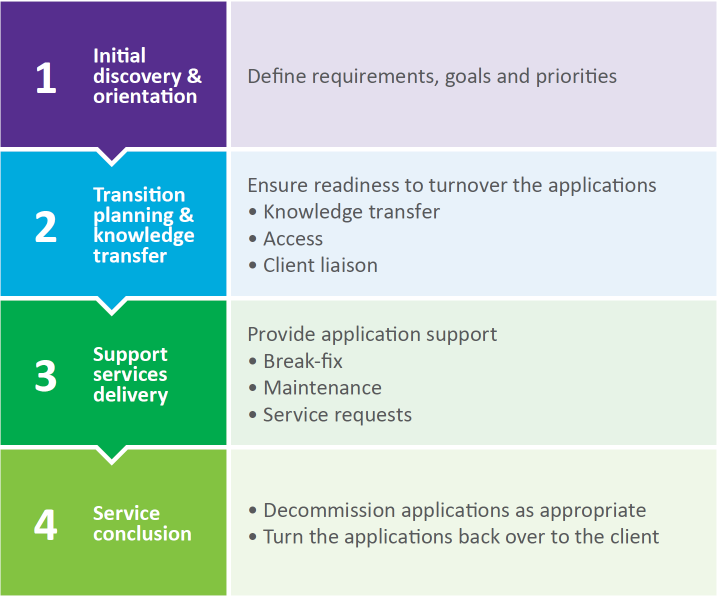 Beyond the Implementation:
Meeting Demands While Lowering Costs
After your new EHR is up and running, your support needs will continue to grow in complexity and strategic importance, and Encore can assist with that, too. Our Application Management Solutions can help you:
Focus on EHR optimization rather than on day-to-day help desk tasks

Meet SLAs through help desk services and application support

Build required user enhancements and/or regulatory changes

Develop custom reports, freeing up your resources to focus on root cause analysis and performance improvement

Lower your overall total cost of ownership by leveraging Encore/Quintiles' global delivery network

Meet the growing support demands on your EHR while keeping within budget