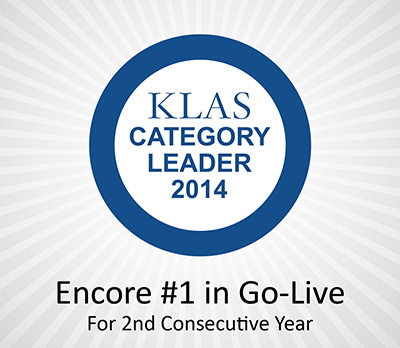 Encore has been named Best in KLAS/Category Leader in the Go-Live Support services segment for the second consecutive year!
Encore's Activation/Go-Live Services provide the program development and management of dedicated "at-the-elbow" (ATE) resources leading up to and beyond your organization's go-live, delivering comprehensive support to end-users. Encore's go-live management covers your organization's super users and vendor staff, as well as experienced physician and non-physician supplemental resources Encore staffs. This allows for all end-user support to be scheduled and managed centrally.  Encore's service includes the recruiting, onboarding, scheduling, training, and management of all supplemental resources and their travel logistics.
Encore's Activation/Go-Live  Service Managers have deep experience with the management of other Activations, and the supplemental resources in many cases have certifications in the application involved and have participated in Encore Activations in the past. This level of experience ensures an effective transition to the new system, and complete satisfaction with our Activation service overall.
"We could not have done what we did without Encore!" – UCSF Provider Content Director
"Encore's go-live support model was very helpful. They had physicians provide at-the-elbow support to our physicians during the go live, so our physicians got that peer-to-peer relationship. They did a fantastic job…"
"The Encore project managers were excellent. They totally masterminded the schedule. They did all the recruiting and relationship management for the contractors, the at-the-elbow support people, and the physicians. They were really professional and great to work with. We were all stressed out about giving birth to this thing that we had been working on for two years, and Encore's project managers were great to work with…."
-Encore Go-Live Support 1/29/2014 ©2014 KLAS Enterprises, LLC
Learn More about our Activation Services