Doing More for Less: Encore's Application Management Solutions
The demands—implementation, optimization, maintenance, performance improvement, quality initiatives, etc.—placed on healthcare provider's EHR teams are growing faster than their budgets.
In response to this, Encore has developed Application Management solutions to help you put "first things first," keeping your team focused on the strategic initiatives that will transform your organization.
Our services enable your organization to:

Put your best people on the projects that matter most to your organization's future

Offer support for fixes, enhancements, new regulatory requirements and upgrades while still moving ahead with implementation, optimization, and performance improvement efforts

Receive predictable, flexible, cost-effective services from a trusted partner with financial stability, experience and scale
Our Application Management Solutions combine the capability of our parent company, Quintiles, with Encore's in-depth knowledge and experience managing production EHR applications for organizations just like yours. Quintiles' Application Support Organization, centralized at the Remote Team Center in Raleigh/Durham, NC, has supported mission critical systems worldwide, including Data Warehousing, Lab, Reporting & Analytics, Clinical Trial Management, and IT Management. Last year alone, Quintiles managed more than 1,000 healthcare applications and closed more than 200,000 support tickets last year.
A Better Way
The Expertise of Many for the Price of Few
Instead of facing the unpredictable nature of an ad hoc solution, Encore's Application Management Solutions give you piece of mind to free up your staff so they can focus their full attention on your new EHR implementation, upgrade or optimization. This cost-effective solution can greatly reduce the need to engage expensive traveling consulting resources for your project.
While Implementing a New EHR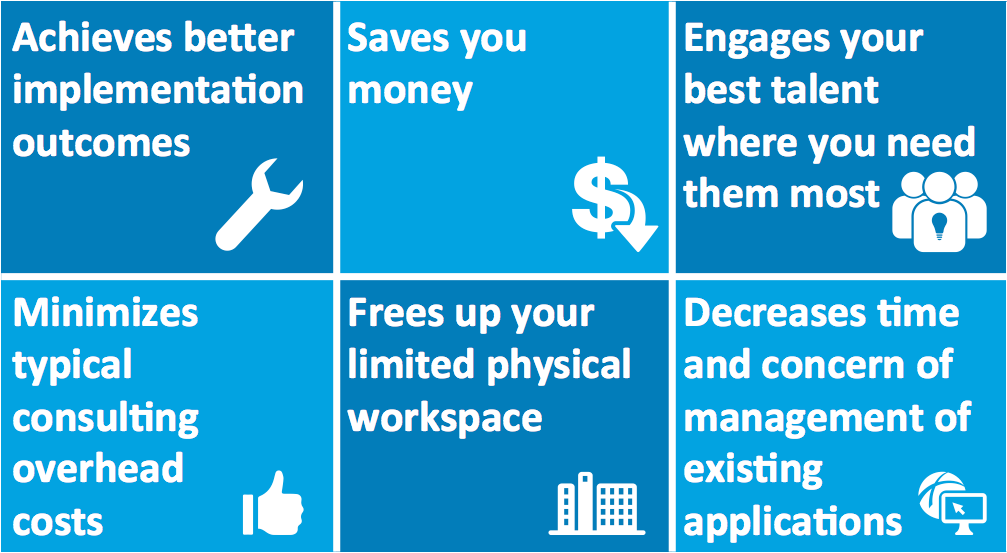 Implementing a new EHR while keeping legacy applications up and running can create tremendous stress and strain on your organization. Encore can provide relief through an Application Management Solution customized to your legacy applications, environment, priorities and culture, helping you:
Achieve better implementation outcomes
Application Management Solutions free up your team to focus on incorporating organization-specific information into the new EHR.
Save money
Using Encore's Application Management Solutions realizes typical savings over the course of an implementation approach of 40% compared to using traditional external EHR implementation staff.
Engage your best talent where they are most needed by focusing on the new application, your best and brightest help move your organization toward your future.
Minimize typical consulting overhead costs
Encore's Application Management Solutions offer fixed, monthly predictable pricing inclusive of travel and expenses. We offer As You Need Them (AUNT) resources, with the ability to offshore to decrease costs.
Free up your limited physical workspace
Using world-class security, Encore lets you choose technology over travel, reducing your space and equipment costs.
Decrease the time and concern spent on managing existing applications. Encore provides SLA-based reporting, incident tracking and a service change summary so you can review performance without having to manage the support team day-to-day.
Beyond the Implementation: Meeting Demands While Lowering Costs
After your new EHR is up and running, your support needs will continue to grow in complexity and strategic importance, and Encore can assist with that, too. Our Application Management Solutions can help you:
Focus on EHR optimization rather than on day-to-day help desk tasks
Meet SLAs through help desk services and application support
Build required user enhancements and/or regulatory changes
Develop custom reports, freeing up your resources to focus on root cause analysis and performance improvement
Lower your overall total cost of ownership by leveraging Encore/Quintiles' global delivery network
Give you the ability to meet the growing support demands on your EHR while keeping within budget requires innovative approaches to people, process, and technology.
Adding Encore's Application Management Solutions to your repertoire helps you focus on the future while ensuring success today.
Get In Touch
For more information on Encore's Application Management Solutions, contact Ken Roderman at 972.996.6975 or [email protected]